@@@@@@@@@@@@@@@@@@@@@@@@@@@@@@@@@@@@@@@@@@@@@@@@@@@@@@@@@@@@@@@@@@@@@@@@@@@@@@@@@@@@
This CD marks the premiere full length CD by just intonation composer and instrument builder Kraig Grady outside of his documentation of the music of Anaphoria Island. It also is the first recording of his music in which does not also rely on his great skills as a performer or the instruments of his own design or modification. Instead in this 55 minute composition Grady has chosen 6 of his favorite instrumentalist and vocalists from their wide variety of backgrounds each because of some unique quality he finds in their musicality. Grady calls upon these player to perform pitches with extreme accuracy but also to use the wide range of timbres possible on their instruments or voices. This extremely meditative yet somewhat intense explores of one of Erv Wilson until now unexplored tunings called Meta-Meantone. This tuning has the characteristic of exploiting a variety of acoustical phenomenon ranging from equal beating chords to the reinforcement of difference tone phenomenon. The result unfolds in constantly changing new combinations of color and intensity within the minimalistic limitation of the composition. It is a totally acoustical recording and no processing effects of any kind have been added except for some overdubbing Originally designed for his own personal use, Grady considers it not only one of the few performances of his work done by others he is pleased with, but also one of his favorite compositions of his own swaying him in deciding to release this for the enjoyment of others.
from THE ARCHIVE OF ANAPHORIA label

MiniCD (3in) release

ORENDA
Archives of Anaphoria AOA 2.5



Orenda-For Three Meta-Slendro Vibraphones
Composed by Kraig Grady- 2005
Performed by Erin Barnes, Kraig Grady, and Ellysa Shalla

Recorded and Mastered by Miriam Kolar
Cover Art by Dori Atlantis

Limited Edition of 200 in Two Covers of 100 each

This 3" mini-Cd is the second of a series of pieces conceived directly for this medium.
This is the first to appear on the Archives of Anaphoria label, which plans to continue with a series of like works.

Orenda is both a Huron and Anaphorian word meaning that kind of
power that mortals can summon to combat the blind forces of fate.

While not a composition from Anaphoria, it is one that is informed by
the ambient philosophy that blossoms out of the words and sounds of those people.

The piece starts at an extremely low volume and listeners might be warned not to increase the level on their sound-producing device.

...a deliciously strange and thrilling new work for three microtonal vibraphones-Kyle Gann, PostClassic 10/19/2006


@@@@@@@@@@@@@@@@@@@@@@@@@@@@@@@@@@@@@@@@@@@@@@@@@@@@@@@@@@@@@@@@@@@@@@@@@@@@@@@@@@@@@

W/O R&R


WITHOUT R & R
KRAIG GRADY: HAMMER DULCIMER

(MODIFIED FOUR OCTAVE DUSTY STRINGS INSTRUMENT)
RECORDED SEPT 21,2004 AT THE NORTH AMERICAN EMBASSY OF ANAPHORIA ISLAND
MIXED AND MASTERED BY MIRIAM KOLAR
COVER ART: RENEE REYNOLDS
EXPERIMENTAL MUSICAL RESEARCH EMR 11
3" MINI CD TOTAL TIME 21:20
This was limited pressing of 200 hand numbered copies (divided into 3 different covers)
@@@@@@@@@@@@@@@@@@@@@@@@@@@@@@@@@@@@@@@@@@@@@@@@@@@@@@@@@@@@@@@@@@@@@@@@@@@@@@@@@@@@
THE STOLEN STARS

THE STOLEN STARS: AN ANAPHORIAN DANCE DRAMA.

Inside the CD you get the background and history of this ritualistic drama, so we will refrain from repeating what is printed there. Instead we include some comments on the music from one of Anaphoria's most renowned ethnomusicologists, Lovogata Lubati, who not only suggested the recording but also was instrumental in bringing it to completion:
"Musically this dance drama exploits the properties of one of Anaphoria's most prized tunings with its capacity to create subtle standing waves. The sound produced, while being totally acoustic, resembles certain electronic effects. Phase shifting, beat patterns that accumulate into their own complementary tempos, and the play on brain wave patterns are all natural products inherent in the nature of the tuning and instruments. Different tempos also unfold between the three instrumental groups as they are separated at some distance to accommodate the dance that requires an unusually large area. It is for this reason it became ideal to use three different recording engineers placed at optimum positions."
Four Panel Digipak Format
@@@@@@@@@@@@@@@@@@@@@@@@@@@@@@@@@@@@@@@@@@@@@@@@@@@@@@@@@@@@@@@@@@@@@@@@@@@@@@@@@@@@
ANAPHORIA: CREATIONS OF THE WORLDS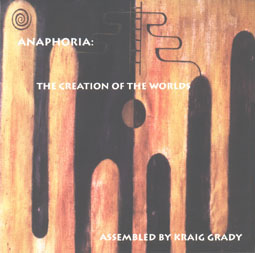 performed by
Joe Barardi
Erin Barnes
DJ Bonebrake
Scott Breadman
Kraig Grady


This 70 min large ensemble performance represents one of the island's most unique compositions. A rare combination of compellingdriving rhythms with transcendental harmonies known to ethnomusicologists for it suspension of tonal centers but comprised of divine consonance.
The final
release in the original Anaphoria trilogy, again featuring
the peripatetic and not-really-there Banaphshu, along with more
corporeal collaborators such as Erin Barnes, finds Grady
aiming big and succeeding. Consisting of two large-scale pieces
developing into full ensemble performances, Anaphoria: The Creation is
arguably the most self-consciously epic of the three albums, caught
somewhere between gamelan orchestras, big band, exotica and Harry Partch-inspired
microtonality. The great thing about Grady's
work, though, is that it doesn't require being steeped in those fields
to enjoy the end result -- it's eminently immediate and entrancing
material. Everything starts off quietly, but by ten minutes into the
first song it's a full-on collage from open-ended drone to any number
of chimes, bells, and whatever self-created instruments Grady
and company are being used. Rhythm and exploratory melody work in sync,
subtly but clearly building in intensity and just as carefully backing
away or evolving into newer and no less fascinating results. When the
first song turns into a full drone piece about half an hour in, layers
of sound billowing through the mix, the contrast to the rest of the
track makes it all the more gripping (and the slow rumbling gong sound
is a fine touch!). The second song is the longer of the two but no less
intriguing, following the same general approach of the first while
exploring its own particular ends -- if it generally feels a touch less
intense, it's only by a matter of degrees. Together the two make for
both an enjoyable conclusion to the original series and a grand
standalone effort. ~ Ned Raggett, All Music Guide


@@@@@@@@@@@@@@@@@@@@@@@@@@@@@@@@@@@@@@@@@@@@@@@@@@@@@@@@@@@@@@@@@@@@@@@@@@@@@@@@@@@@
FFROM THE INTERIORS OF ANAPHORIA
This release represents some of the ancient traditions in Anaphoria. Recorded in 1993-1996 by Banaphshu and Kraig Grady, this 71 min. CD presents a wide array of Anaphorian Instruments in solo as well as two of the best known ensemble pieces.
Kraig Grady's
Anaphoria trilogy, From the Interiors purports to be a collaboration
between Grady and a native of said fictional land, Banaphshu. The truth
is more prosaically laid out in a brief note elsewhere, with such
collaborators as ex-Fibonaccis member Ron Stringer
and multi-instrumentalist Kip Boardman,
among others, assisting Grady with his enjoyable act of non-Western
music forgery. The five tracks (seven on the disc, but the first three
form part of one overall piece) get discussed in full in the liner
notes, written purportedly by Banaphshu in a style pitched somewhere
between '50s exotica and well-meaning Real World reissues of the '90s.
Cities, mythologies, and natural locations where pieces were supposedly
recorded live, all are mentioned in the notes as a way to give
background to what is being heard. Such is part of the joke of the
whole Anaphoria series, but the real success of From the Interiors and
its related efforts is how serious -- and seriously beautiful --
everything is. Hints of gamelan in particular inform From the
Interiors' pieces, played on Grady's own self-created instruments such
as the Lake Aloe (a relative to vibes) and the Fifth Mesa, a marimba
equivalent. Performances are minimal sometimes to the point of near
silence, creating a feeling of gentle meditation without sounding
anything like new age (or for that matter much like Eno-popularized
ambient approaches, for all the lengthy serenity of "Court Music of the
Mesa"). Instead, the rings and chimes throughout combine rhythm and
open-ended melody; a lovely combination. The third part of "Three
Ingressions of Ancestral Spirits" has an utterly fascinating
performance on either a y'ang-ti'chin or its equivalent, the hammered
strings simply entrancing in their fluidly performed beauty, while the
soft percussion and intentionally involved time signatures on "Gending
Boehme" make for a mysterious jam session. ~ Ned Raggett, All Music
Guide


---
@@@@@@@@@@@@@@@@@@@@@@@@@@@@@@@@@@@@@@@@@@@@@@@@@@@@@@@@@@@@@@@@@@@@@@@@@@@@@@@@@@@@
MUSIC FROM THE ISLAND OF ANAPHORIA
Available as a zip file

Grady-Laner-Music From the Island of Anaphoria.zip


This premiere recording from Anaphoria was compiled by Kraig Grady and Brad Laner and Anaphoria's own Banaphshu. This musical diary of Kraig and Brad's meeting with Banaphshu represents a unique blend of the Ancient and technological worlds.

"More ethnographic surrealism than microsynthetics, Grady and Laner set up a relationship -homage, critique and reflexive observation - to the practice of ethnographic recording and then construct a fresh definition of the chaotic exotic. Gently inventive, the music celebrates the marvelous, remote and unknown threaded through the familiarity of millennial urban culture" ? David Toop, The Wire.
"Decidedly alien, original and beautiful field recordings from the mythical island of Anaphoria. Imagine the Beach Boys, gourded out of their tiny surfer
minds while jamming with the inhabitants of MU, and you will only be edging towards the planet this music is beaming down from. A truly amazing record.
Cover art : Sonic skull ephemera that is tastefully dark." Edwin Pouncy Resonance (UK) vol 6 #2 Aug 98
@@@@@@@@@@@@@@@@@@@@@@@@@@@@@@@@@@@@@@@@@@@@@@@@@@@@@@@@@@@@@@@@@@@@@@@@@@@@@@@@@@@@
REVIEW
ALTERNATIVE PRESS SEPT.99
Dave Segal
---
@@@@@@@@@@@@@@@@@@@@@@@@@@@@@@@@@@@@@@@@@@@@@@@@@@@@@@@@@@@@@@@@@@@@@@@@@@@@@@@@@@@@@@@@@@@@@@@@@@
COMPILATIONS INVOLVING OUR STAFF

Sound Cd no. 2 Including Gending Aptos (Kraig Grady 1999) performed by Erin Barnes, Kraig Grady, Sara Schoenbeck, and Dave Shaffer
Including 45 second piece- IONOSU ( Kraig Grady (2003)