UNDER CONSTRUCTION
PAPERS of PRAVEEN VENKATARAMANA
Praveen is working in exploring on the tritave equivalent versions of Wilsonian ideas (cps, cs, marwa purvi, helixsongs etc.).
---
"SEPTUTI" A 7-LIMIT SCALE INSPIRED BY THE 22 SRUTIS
VARIOUS SUBHARMONIC FRETTINGS INSPIRED BY AHOBALA AND KAMILKKHANI
---
HIDDEN MURCHANAS IN THE PARTCH MONOPHONIC FABRIC
These lambdomas are the result of an exhaustive computer search of any lambdoma that covers Partch's scale or a subset thereof. The last 7-tone one listed is the 1 3 5 7 9 11 4/3 he found that covers 37 tones of the diamond. This being the largest murchana possible contained within Partch's monophonic fabric."
---
SOME HIDDEN MURCHANA MATRICES IN ARABIC AND GREEK GENERA
---
MARWA-PURVI AND HIDDEN MURCHANA MATRICES OF SOME ATYPICAL GENERA
---
A COUNT OF CONSTANT STRUCTURES
with 4 distinct superparticular 7 limit steps with sizes between 5/4 and 126/125 (inclusive), that generate the intervals 2/1, 3/2, 5/4 and 7/4. From Xenharmonikon
---
---
'META' RELATIONSHIPS
---
---
CENTAUR EXTENSIONS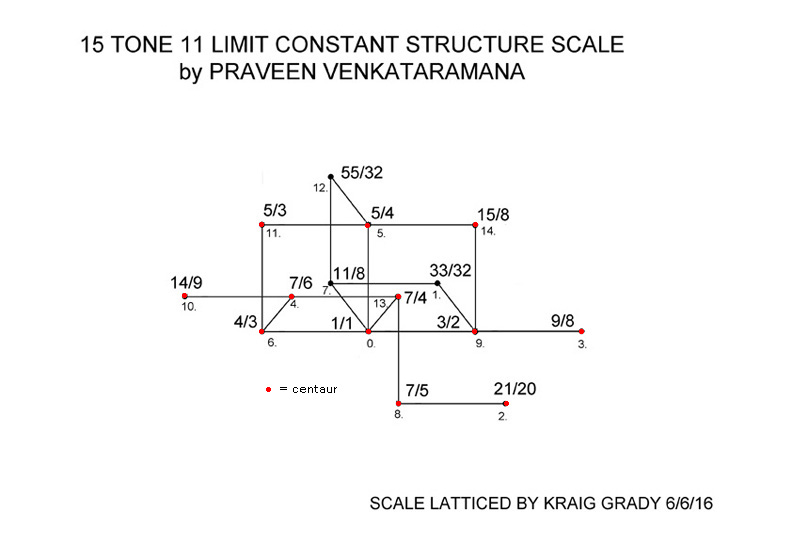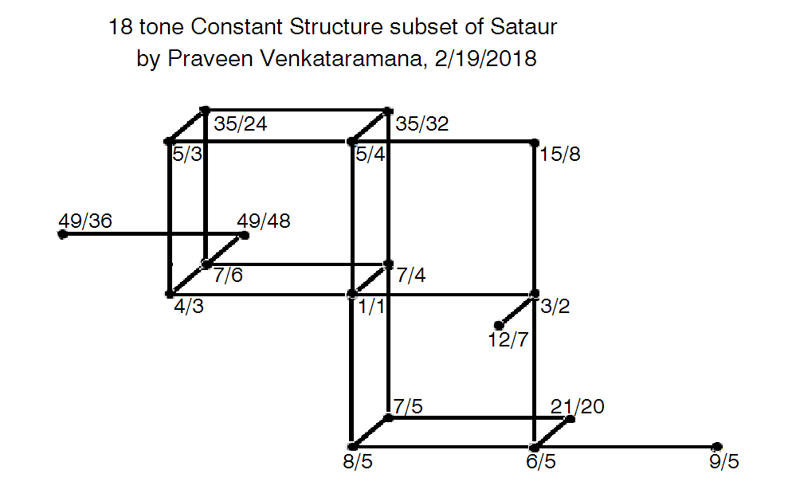 ---
SOME TRITAVE STRUCTURES
The tritave equivalent 1 2 4 7 10 11 Eikosany
1/1 55/54 77/72 10/9 7/6 385/324 11/9 35/27 77/54 55/36 5/3 7/4 11/6 35/18 55/27 77/36 7/3 5/2 11/4 35/12 3/1
Is like 1/1 7/6 3/2 7/4 9/4 21/8 3/1
The tritave equivalent of the factors are 1 2 4 5 7 8 10 11 Hebdomekontany
1/1 55/54 28/27 77/72 88/81 10/9 154/135 7/6 385/324 11/9 56/45 77/60 35/27 4/3 110/81 7/5 77/54 22/15 40/27 55/36 14/9 8/5 44/27 5/3 77/45 7/4 16/9 11/6 28/15 154/81 35/18 88/45 2/1 55/27 56/27 77/36 11/5 20/9 308/135 7/3 22/9 5/2 77/30 70/27 8/3 11/4 14/5 77/27 35/12 44/15 3/1
---